Assalamualaikum warahmatullahi wabarakatuh
Hari saya just nak update a journal.
16 November 2015
Isnin
Banyak kali saya merasakan Allah sangat sangat sangat sayang pada saya.
Setiap kali saya tersasar mesti ada saja teguran yang diberi.
Setiap kali ikhtilat tak terjaga,
Setiap kali lagha dgn media sosial,
Setiap kali malas,
Setiap kali jadi pemarah..
Mesti ada yang datang menegur.
Alhamdulillah.
Masa tu rasa macam "Ya Allah.. Sungguh Kau sayangkan hambaMu ini.
Cuma hambaMu ini saja yang tak reti bersyukur."
Jujur saya katakan, memang tiada teguran demi teguran, agak susah untuk menjaga hati.
Agak susah untuk beristiqomah.
Macam tu juga kalau saya upload gambar di medan sosial.
Lepas tu mesti ada terbaca artikel atau apa-apa entry betapa seorang wanita ini sangat berharga. Tidak patut menjadi tatapan umum.
Walaupun upload gambar menepati 4 syarat tu, still kena jaga mata dan hati muslimin yang melihat.
Sekali lagi, saya padam gambar tu.
Saya sangat rasa kasih sayang Allah tu Maha Hebat.
Sampai macam tu sekali Dia menyentuh hati hambaNya.
Hari tu pula, saya tersalah pilih kawan, tersasar juga lah seketika.
Then, ada seorang akak ni tegur.
Alhamdulillah tak sempat tersasar jauh.
Masih boleh dikembalikan.
Tidak lama selepas hubungan kami renggang, mereka telah menjadi buah mulut orang.
Allahurabbi.
Memang Allah nak lindung sangat hambaNya yang seorang ini.
Dan sebagai hamba,
فبأىءالاءربكماتكذبان؟
Nikmat mana lagi mahu kita dustai?
Semua Allah dah bagi. Kita je yang tak reti reti nak bersyukur *nangis*
Ya Allah, mungkin apa yang saya dapat hari ni bukan kerana doa saya.
Mungkin kerana makbulnya doa doa generasi sebelumnya.
Mungkin kerana doa rakan rakan.
Mungkin juga kerana kasih sayang dan rahmatMu ya Allah.
Pada teman, memang berhijrah tu tak mudah. Hijrah tu mujahadah.
Kadangkala kita sendiri yang tak mampu buat. Dengan itu minta segalaNya pada Allah.
Walau kita tersasar, in sha Allah, Allah kembalikan kita balik.
Put all the faith and trust to Him.
Jangan lupa doa tetapkan iman.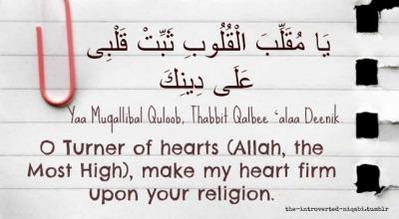 Assalamualaikum !
Show me RIGHT from WRONG .
Indeed , I'm a learner =)